Rudi Lack was YWAM's first member from Switzerland and Europe. He joined Youth With A Mission in the winter of 1969 after translating for Loren Cunningham, the founder of Youth With A Mission, in a German speaking church in Switzerland.
The ministry that God had Rudi involved in spread across the world. He was the first person from YWAM to minister in East Africa, South Africa, China and many other regions and nations of the world.
Rudi's ministry will live on the countless lives that he touched while serving in YWAM. He gained the nick-name "the YWAM Bumblebee" because he was known to "cross-pillinate and share vision that leads to great fruitfulness!". He distributed millions of Christian books around the world and wrote two books, "Breakthrough – Taking the Gospel Across Forgidden Borders" and "101 Leadership Principles".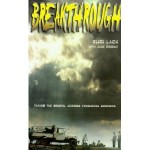 You can read more about Rudi Lack and his ministry and influence in Youth With A Mission here.
When I was in Switzerland in 1999 I was blessed to hear Rudi speak and purchased his book Breakthrough, which was an amazing book (I only wish I still had it). Although it appears that the book Breakthrough is now no longer in print and you can not get it from YWAM Publishing, Amazon.com has some for sale here.