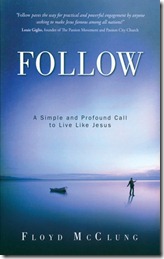 After reading a review about Floyd McClung's new book "Follow'" I'm thinking that this is a book that I want to pickup and read at my earliest convenience. The basic premise of the book is to answer the question, "How are we to think and live day to day as followers of Jesus?" He addresses many issues in the book, including:
obedience
identity
significance
church
sexuality
marriage
work
humility
faith
prayer
witness
sacrifice
and more …
The book is very practical and includes topics for group discussions at the end of each chapter, as well as personal, practical steps of application.
Here is Floyd McClung describing the book:
Here is the blurb about the book from the YWAM Publishing web-site:
Isn't it time to stop asking, "What would Jesus do?" and start asking, "What is Jesus doing now?"

There are two kinds of people in the world: those who have stories to tell, and those who don't. Those who, like Peter, follow Jesus on the water are the ones who will tell others their stories. Floyd McClung leads us through the liberating process of changing the focus of our lives from ourselves to Jesus so we can do life the way Jesus did in the New Testament – and the way He is doing it now in and through His followers. This Jesus is not safe, sterile, or sanctimonious. He is an untamed, passionate, compassionate Jesus who makes the pages of the New Testament live again.

Follow is a real-life, right-now guide to living life the Jesus way – a challenge to get out of the boat of dull religion and find the kind of adventure that happens to ordinary people when they dare to walk on water.

Floyd McClung has been a missional leader and church planter in Afghanistan, Amsterdam, America, and Africa. He is the author of numerous books, including The Father Heart of God. His books – which have sold over one million copies and been translated into over thirty languages – have inspired generations around the world. McClung and his wife, Sally, live in Cape Town, South Africa.
You can purchase the book through the YWAM Publishing web-site, and it is also available on the Kindle over at Amazon.com, where you can see an expanded preview of the book, including quite a few chapters that you can read in full.